Here's the key to our hearts...every place we stayed in Ireland used a skeleton key for the lock, every place. Loved it!!!
Me and my youngest daughter, Gusty (real name, Augusta) with a map of Ireland and shots of whiskey...all we need as we wait at DIA to board our first flight on our way to Ireland!!
It's Towelie!!! Still at the bar in DIA, when we noticed, hanging in front of us, courtesty of the nightcrew, our favorite South Park character! We knew it was a good omen for our trip!!
After a long flight, in the dark, over the Atlantic...Dublin and Guinness!!! A sight for sore eyes!
In a rental car, we left Dublin, and, with Gusty at the wheel (thank god!) we drove into Fairyland, aka, the Gougane Bara Hotel in County Cork.
These are hillside cells of Monks, dating back to the 6th Century. These cells are on the grounds of the beautiful, mystical Gougane Bara Hotel.
Neil and Katy Lucey are the wonderful, generous, brilliant, kind, Irish-speaking owners and operators of the Gougane Bara Hotel. They could not have been kinder or more helpful to us, GRMA!!!
Neil and Katy gave us fantastic directions for a beautiful drive from their hotel to Dingle. Here we stopped for a photo op in Killarney National Park, County Kerry.
Katy Lucey said that Muckross Abbey was a beautiful, spiritual place, well-worth seeing...and how right she was!!! It took our breath away. In the courtyard of this old Franciscan Abbey grows a Yew Tree, said to be as old as the Abbey, itself, which dates back to @1448.This photo and the next 3 were taken there.
Musicians playing at Murphy's Pub in Dingle, Ireland. After our incredible stay at the Gougane Bara Hotel, and a drive with spectacular scenery, we stopped in Dingle for the night, to listen to music and to enjoy a fine meal and great drinks with, in our opinion ... see the next photo....
Ireland's finest bartenders, Colm and Briain!!! Lots of craic that night!!!
And Desmond, a friend of the bar, was there and presented himself as a fine prospect for Gusty, should she want to marry an older Irish Tour Guide!!!
Surprise!!! I could not, literally, could not believe my eyes, when, driving into Doolin, Ireland, Gusty told me to look out the window at the guy, drinking a beer and holding a sock...that was my sock! That was my son!!! Could not believe it!!!
But it was true!!! Jeff had flown into Dublin, took a train to Galway and then a bus to Doolin, just to meet up with us and return to me a sock I had left at his place in June!!! What a wonderful, magical surprise!!! So thrilled he was able to complete our tour of Ireland with us!!!!
From our place in Doolin, we explored The Burren, a National Park in County Clare. The walkway, garden path you see here, again, is like entering a fairytale, is part of the Burren Perfumery. The next two pictures were taken there; it includes a tea shoppe and the Perfumery, where they make all of their scents and productes from local plants.
This photo and the next one were taken there.. the landscape is mostly limestone, with crevices where Alpine, Arctic and Mediterranean plants grow side-by-side.
This is a picture of the Poulnabrone Dolmen, or portal tomb, also located in The Burren National Park and dates to about 4200 BC and 2900 BC.
This photo and the next 8 are all from The Burren National Park and show off another view of the Poulnabrone Dolmen, the Burren's floral diversity, stone walls and some incredible heart-shapes found in the stones of the beautiful Burren.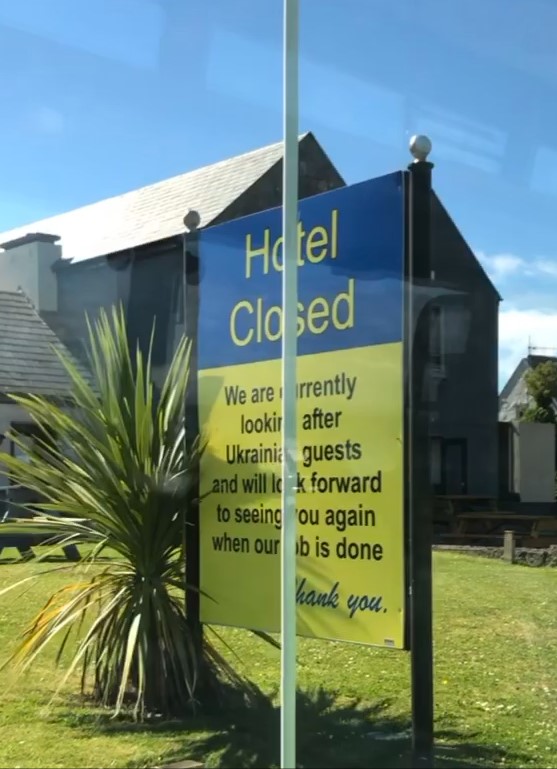 And a shout out to this Hostel in County Clare for taking in Ukranian refugees!!!
We just had to pull over and checkout this mini castle, shown here and in the next 2 photos. It turned out to be a shelter for a fresh-spring source of drinking water!! And Jeff took a drink, and he is still alive and well!!!
On our drive back to Doolin from The Burren, we took a road by the coast, and this image of the castle grew up out of the mist, as we approached, like magic!
It was a great band at Gus O'Connor's Pub in Doolin!!!
Nile, a good lad from Galway and Jeff, sing along at O'Connor's!!!
And soon, we had a regular chorus, with Nile's cousin, Sean, from Dublin, and a random lass, Trish, who was looking for a ride to a musical festival the next day!!!
The next day, still in Doolin, Jeff and Gusty are sittin' at the dock of the bay, make that Galway Bay, waiting for the ferry to Inis Mor, the largest of the Aran Islands!
All aboard! And we're off to Inis Mor
First we pass a lovely lighthouse ...
Then our ferry makes a short stop at one of the smaller islands...can't recall if this photo and the next photo of thoughtful Jeff on a beach were taken on Inis Meain, the middle-size island, or on Inis Oirr, the smallest island...I think it might be Inis Oirr. Either way, just a lovely stop.
Now we're walking around Inis Mor, and here is a ruin of an old church, not ancient, but old, like me! And the next is a photo that was taken on the inside of this lovely old ruin.
Still on Inis Mor, this photo of a castle ruin and surrounding walls, made us think of The Labyrinth's Goblin City!
Jeff owns a sunken ruin in Galway Bay!!
At Gus O'Connor's Pub, Nile had told us that we'd be fools not to go to Galway, so here we are, on a street in Galway!!!
And, oh my gosh!!! Who do we see walking by us but the man himself?!! Nile!!! So I had to get a picture of Jeff, him and Gusty; then I noticed that he was just drinking water. He said that he thought he had had enough whiskey the night before, "I hope I wasn't too stupid!", he said. "Oh, you weren't at all!" I told him, "In fact, you were speaking beautiful French!" "Oh no," He said at that, "I must have been really pissed if I was speaking French!"
This photo and the next one are for my oldest daughter, Genevieve, who could not join us for this trip. For years, she has been watching YouTube videos of lace-making from a town, north and west of Dublin, called Carrickmacross, which is, I believe, home of some of Ireland's best made lace...here is the entrance to the lace-making center and the next photo shows you some of the beautiful lace work.
And two more great and tasty finds in Ireland...Barry's Tea and Tayto Chips...yummy!!!
Our last night in Ireland was spent in Dublin..and what better farewell shot then one Jeff took of Gusty at our pub's exit door sign, complete with a Googly Eye!!!